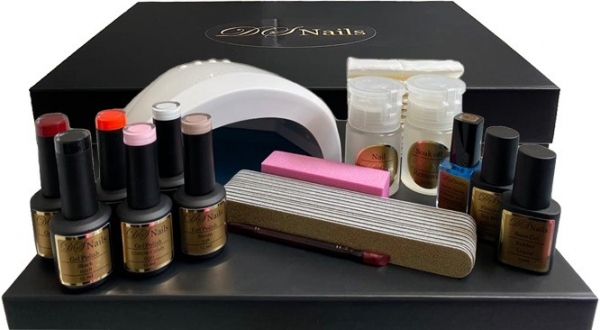 Alles was sie für eine Einsatzbereite Gel Polish Nagelmodellage brauchen, ist in diesem Set enthalten!
Bei Support Rückfragen, Tipps und Tricks schauen sie bei uns auf dem Instagram account @dsnails_de vorbei und schreiben sie uns eine Nachricht!

Everything that you need for a basic gel polish nail modellage, contains this set!
For questions, tips and trick dont hesitate do vitis our instagram account @dsnails_de and leave us a message!
The DSNails Starter Set contains :
1 Sun One UV/LED hybrid Lampe
1 Package Cellettes
1 Soak Off Remover
1 Nail Cleaner
1 Finish No Wipe Kauchuk
1 Base Rubber Liquid
1 Vitamin Nail cuticle oil
1 Buffer
1 Horsefoot
10 Gold Professional Nail File's
6 Colors Gel Polish Kauchuk 15ml
1 Coupon code for lifetime 10% on all DSNails products!
Kundenrezensionen
Ich habe das Starter Set nicht gekauft, aber ich kenne die Gele die auch im Starter Set mit drin sind und ich muss sagen ich bin Jedes mal begeistert. Das Base Gel hält bei jedem Kunden und Sie kommen nach 4 Wochen wieder und die Nägel glänzen immer noch!

Das Base Gel hält bei jedem Kunden und Sie kommen nach 4 Wochen wieder und die Nägel glänzen immer noch!

Zur Rezension
Kunden, welche diesen Artikel bestellten, haben auch folgende Artikel gekauft: